Description
Ball rugby custom PU professional merican
Item
custom PU professional merican football
Size
Usage
Grms/pc
Circumference
Diameter
Pcs/ctn
CTN size

cm

G.W./ctn

kg

Size 6
Standard youth game
420g
71cm
24cm
50
64*43*65
21
Size 9
Standard Men's game
420g
71cm
24cm
50
64*43*65
21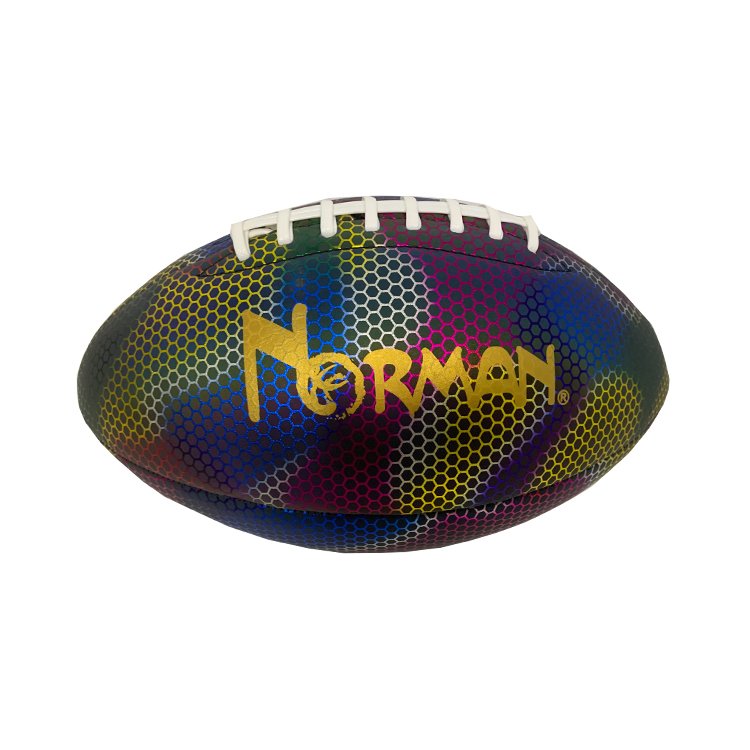 Introducing the revolutionary rugby ball that will take your game to new heights. This rugby ball is not just any ordinary ball; it's a game-changer that will transform the way you play. From its superior craftsmanship to its exceptional performance, this ball is a must-have for every rugby player.
Crafted with precision and care, this rugby ball is made from top-quality materials that ensure durability and longevity. It is built to withstand the tough demands of the game, allowing you to play with confidence and focus on your skills and strategy, without worrying about the ball's performance.
One of the standout features of this rugby ball is its superior grip. The texture of the ball provides an enhanced grip, allowing you to maintain control throughout the game. No more slippery hands or dropped catches – with this ball in your hands, you'll have the confidence to execute precise passes and powerful kicks, making you a force to be reckoned with on the field.
Not only does this rugby ball excel in grip, but it also offers exceptional flight stability. Its aerodynamic design allows for optimal trajectory, ensuring long and accurate passes. Whether you're launching a cross-field kick or executing a perfectly weighted pass, this ball will deliver consistent performance, enabling you to unleash your full potential and create scoring opportunities for your team.
Designed to meet the demands of both training sessions and intense matches, this rugby ball is built for performance and resilience. It can withstand the hard tackles and intense scrums, maintaining its shape and performance even under extreme pressure. This durability ensures that the ball will last for many matches and training sessions to come, making it a reliable companion for your rugby journey.
In addition to its exceptional performance, this rugby boasts a sleek and stylish design that reflects your passion for the sport. Its distinct colors and professional appearance make it stand out on the pitch, making you the envy of your teammates and opponents alike.
Whether you're a seasoned player or just starting your rugby journey, this rugby is an essential tool that will elevate your game. Experience the difference for yourself and take your skills to the next level with this exceptional rugby . Don't settle for anything less – choose the ball that's designed for champions. Order yours today and become the player you were always meant to be.
Basketball ball size 7 manufacturer | Custom basketball game ball