Description
Glowing Reflective Basketball Custom Logo Size 7
Looking for a basketball that stands out from the rest? Our Glowing Reflective Basketball is the perfect choice for you!
Our Reflective Basketball is crafted with high-quality materials and designed with both style and performance in mind. This basketball provides a superior grip, ensuring that players can control the ball with ease and precision. The outer layer is made of high-quality reflective material, which gives the ball a unique and eye-catching look.
But what really sets our Reflective Basketball apart is its ability to glow in the dark. This makes it a great choice for playing basketball at night or in low-light conditions. The ball absorbs light during the day or when exposed to light, and then glows in the dark for up to several hours. This makes it easy to see and play with, even in the darkest of conditions.
| | | | |
| --- | --- | --- | --- |
| SPECIFICATIONS | CIRCUMFERENCE | WEIGHT | THE CROWD |
| 1 | 39-43CM | 190-230g | ALL AGES |
| 5 | 69-70CM | 470-500g | <9 |
| 6 | 72-74CM | 511-567g | WOMEN'S BALL |
| 7 | 75-76CM | 600-650g | >12 |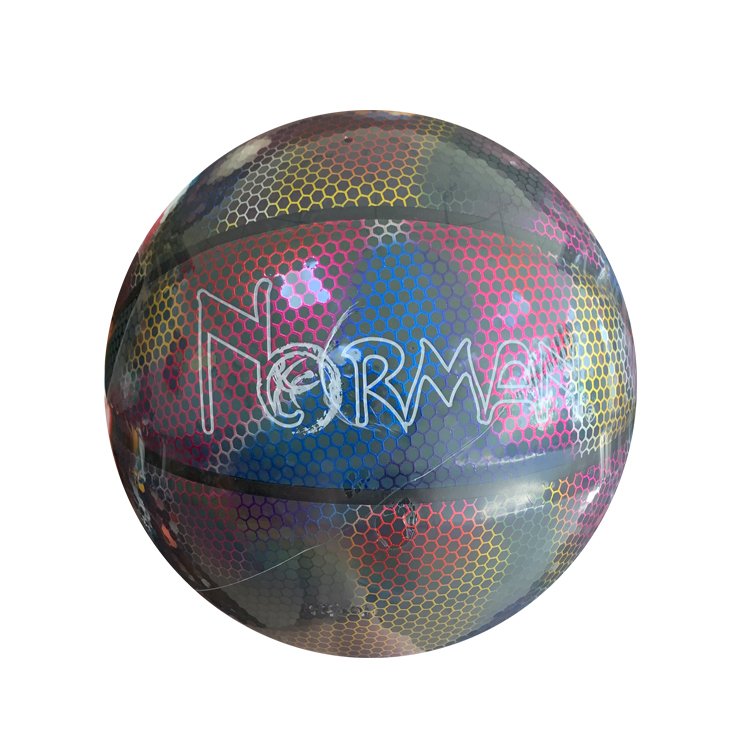 In addition to its practicality and unique design, our Reflective Basketball is also durable and built to last. It can withstand the wear and tear of regular play, ensuring that it will last through many games and seasons.
Our Reflective Basketball is available in different sizes, so you can find the perfect one for your playing style and preferences. It is also easy to clean and maintain, ensuring that it stays looking great for years to come.
In summary, our Reflective Basketball is the ultimate choice for anyone who wants a basketball that is both stylish and functional. With its superior grip, consistent performance, and unique design, this basketball is sure to elevate any game and turn heads on the court. So why settle for an ordinary basketball when you can have the best? Order your Glowing Reflective Basketball today and experience the difference for yourself!