Description
Rugby Ball Holographic Glowing Reflective wholesale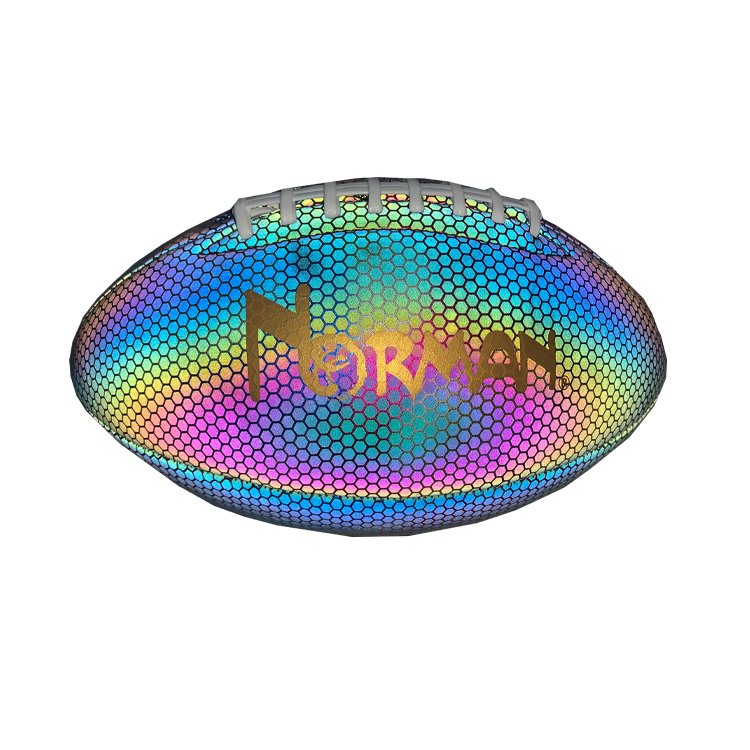 Introducing the Ultimate Rugby Ball: Unleash Your Inner Champion!
Are you ready to take your game to the next level? Look no further! Our brand-new rugby ball is here to enhance your performance and help you dominate the field. Crafted with precision and designed for perfection, this is the ultimate tool for all rugby enthusiasts.
Why settle for any ordinary ball when you can have the best? Our rugby ball is expertly engineered to deliver exceptional performance and durability, making it the perfect companion for intense training sessions and competitive matches. Here's why it's a must-have:
Unmatched Grip: Our ball is equipped with a high-quality textured surface that ensures an unrivaled grip. It allows you to maintain maximum control, even in wet and slippery conditions. Say goodbye to fumbles and hello to precision passes and powerful throws!
Supreme Durability: Made from premium materials, our ball is built to withstand the roughest tackles and harshest weather conditions. It's designed to last, providing you with a reliable and long-lasting investment for your training and matches. It's the epitome of toughness and resilience!
Perfect Flight: The aerodynamic design of our ball guarantees a consistent and accurate trajectory, allowing for precise passes, kicks, and long-range throws. Experience a smoother and more controlled flight, giving you that competitive edge on the field.
Ultimate Comfort: We understand the importance of a comfortable grip while playing. Our ball is carefully crafted with ergonomics in mind, ensuring a comfortable fit in your hands. It reduces strain and fatigue, allowing you to focus on your game without distractions.
Versatility: Whether you're a seasoned professional or a beginner, our ball is suitable for all levels of play. Train like a champion and improve your skills with the perfect balance and weight that our ball offers. It's your pathway to becoming a rugby superstar!
Invest in the best and experience the difference it makes on the field. Our rugby ball is a game-changer that will enhance your performance, boost your confidence, and elevate your gameplay. It's time to unleash your inner champion and dominate the game with our ultimate rugby ball!
Don't miss out on this opportunity to take your rugby skills to new heights. Get your hands on our top-tier rugby ball now and experience the game in a whole new way. Order today and be prepared to revolutionize your rugby journey!