Description
Mini Rugby Ball Holographic Glowing Reflective wholesale rugby
Holographic Glowing Reflective American Football rugby wholesale price from original factory
| | |
| --- | --- |
| Product Name: | Popular Style Size 5 PVC Rugby Ball for Outdoor Sports |
| Material: | PVC/PVC FOAM/EVA MATAL/LASER/CTPU/TPU/PU/Neoprene |
| Size: | 5/4/3/2/1 |
| Weight: | 280~420g |
| Color: | Customized |
| Bladder: | Rubber bladder or butyl bladder |
| Logo: | Customized |
| OEM/ODM: | Available |
| Workmanship: | Perfect machine stitched |
| MOQ: | Accept small |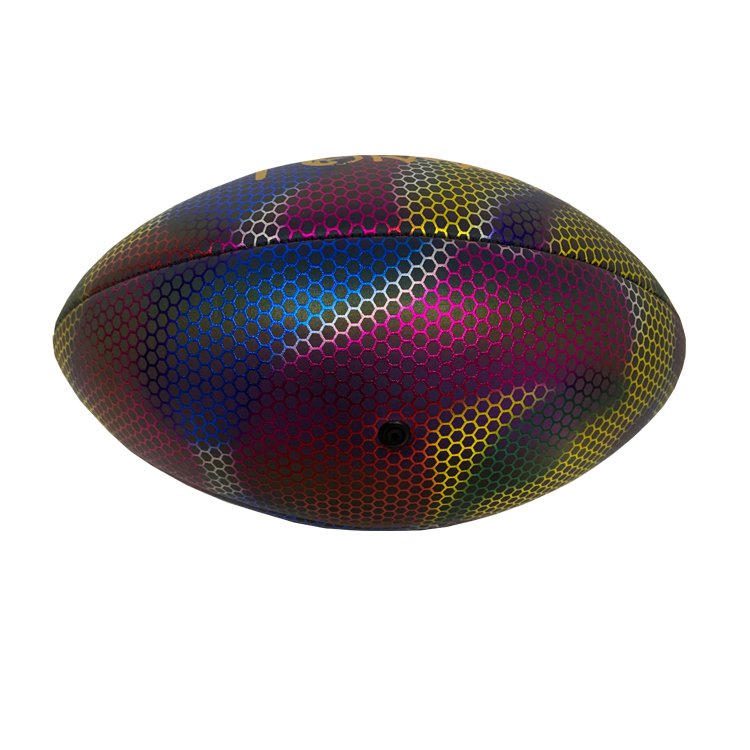 Introducing the Mini Rugby Ball – Perfect for Little Champions!
Are you ready to witness your little ones take their rugby skills to the next level? Look no further because we have the perfect companion for them – the Rugby Ball! Designed with utmost precision and quality, this mini-sized ball is ideal for young rugby enthusiasts who are eager to improve their game.
Crafted from the finest materials, our Rugby Ball guarantees durability and longevity, ensuring that it will withstand the energetic play of your little champions. With a soft and grippy exterior, this ball allows for easy handling and optimal control, giving your children the confidence to tackle any opponent on the field. Its compact size makes it easier for smaller hands to hold, fostering proper technique and enhancing hand-eye coordination.
But it's not just about the physical attributes of the Rugby Ball – it's also about the countless benefits it offers. Here are a few reasons why our rugby ball is an absolute game-changer:
Encourages Physical Fitness: Rugby is a fantastic sport for developing strength, endurance, and overall physical fitness. With the Rugby Ball, your kids will be motivated to run, pass, and engage in dynamic play, keeping them engaged and active.
Builds Social Skills: Rugby is known for its teamwork and camaraderie. By introducing your little ones to this sport, you're helping them develop essential social skills such as communication, cooperation, and sportsmanship. Our Rugby Ball encourages friendly competition, fostering healthy relationships among teammates.
Enhances Cognitive Development: Rugby requires quick decision-making, problem-solving, and strategic thinking on the field. By playing with the Rugby Ball, your children are not only improving their physical abilities, but also sharpening their mental faculties, making them more focused and alert.
Instills Discipline and Respect: Rugby is a sport that emphasizes discipline, respect, and adherence to rules. By engaging in rugby, children learn the importance of sportsmanship, fair play, and ethical behavior – lessons that extend far beyond the boundaries of the field.
Provides Endless Fun: Above all, the Rugby Ball offers hours of endless fun and excitement. Whether your little ones are practicing with friends or engaging in a friendly backyard match, this ball guarantees an enjoyable experience that will keep them entertained for hours on end.
Invest in your children's rugby journey and watch them thrive with our Rugby Ball. With its outstanding quality, size, and benefits, this ball is a must-have for any aspiring young rugby player. So don't wait any longer – order your  Rugby Ball today and kickstart an unforgettable rugby adventure for your little champions!